Warning: Some of this data may be considered TO MUCH INFORMATION… read at your own risk!
In early December I happened upon a gizmodo post about this new book called The 4-Hour Body. The book is all about the MED – Minimum Effect Dose. What is the minimum amount of work you can do to achieve the maximum amount of results? It covers fat loss, muscle gain, and sex. I started following the guidelines in the book on January 3rd and have seen some pretty amazing results. I am doing the Slow Carb diet and Occam's Protocol at the gym. Today I want to talk about the Slow Carb diet. This diet was not a drastic change for my normal routine. Pretty much the biggest difference is that I eat more food and I'm shedding the fat!
Results
Let's talk about my results first… then we'll get into the details.
Weight from 173.9 lbs to 164.0 lbs (using measurement before last binge day)
Body Fat down from 17.9% to 15.0% (my goal is 12%) – I use the Omron Fat Loss Monitor to get Body Fat %
Hips down from 35″ to 34″ – I use the Orbitape Body Mass Tape to get measurements
Abdonimal down from 35.50″ to 34.00″
Thigh down from 22.5″ to 21.75″
I track my weight loss / workouts / body fat / measurements with the iFitness app on the iPhone (for some reason the iFitness app is no longer available in the iTunes store… so I've heard the All-in Fitness app is available and better. I might actually give it a try.).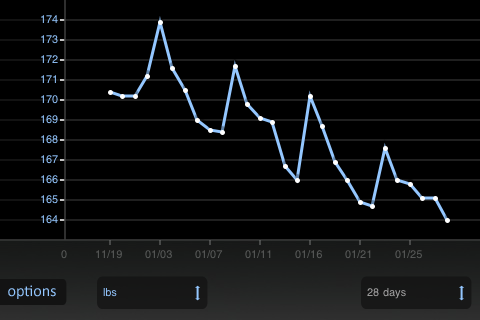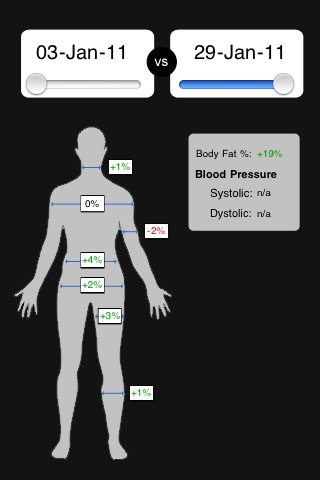 I started working out last June, so this is NOT a New Year's resolution. Basically I realized I was getting too fat and something needed to change. So I hit the gym pretty much everyday (mixing cardio and weight training) starting June 1st. I didn't workout out at all in the last few weeks of December (I was resetting for my anticipated 4 Hour Body expirement, plus I wanted to gorge on Christmas food!). I wasn't tracking my body fat at all before the 4 Hour Body experiment either. Here are some interesting numbers…
June 1st – 189.8 lbs

September 27th – 168.2 lbs (my lowest weight before 4 Hour Body)
December:
6th – 171.2 lbs (stopped working out here)
27th – 174.2 lbs (right before experimenting with Slow Carb meal options and right after Christmas food).
January:
3rd – 173.9 lbs, 17.9% Body Fat (officially started Slow Carb diet).
8th – 168.4 lbs (before binge) — 5 days after start
9th – 171.7 lbs (after binge)
15th – 166.0 lbs (bb) — 12 days after start
16th – 170.2 lbs (ab)
22nd – 164.7 lbs (bb) — 19 days after start
23rd – 167.6 lbs (ab)
29th – 164.0 lbs (bb) — 26 days after start
The Slow Carb Diet
The slow carb diet is basically a low-glycemic index diet. It's great for diabetics (supposedly)… there are 4 basic rules to this diet.
1. Avoid "white" carbohydrates.
Avoid any carbohydrate that is — or can be — white. The following foods are thus prohibited, except for within 1.5 hours of finishing a resistance-training workout of at least 20 minutes in length: bread, rice, cereal, potatoes, pasta, and fried food with breading. If you avoid eating anything white, you'll be safe.
I did my best at avoiding white carbs, it's harder at dinner time because I don't want to make my wife go through the same diet if she doesn't want to. As an example, one night we had turkey hot dogs, I cut off the sides of the bun to make it really thin (basically reduced the carbs by half). To me, some meals aren't enjoyable without some sort of bread. Basically I limited it to just "taste", only occasionally did I "need" to have the carb, and I still saw amazing results.
2. Eat the same few meals over and over again.
The most successful dieters, regardless of whether their goal is muscle gain or fat loss, eat the same few meals over and over again. Mix and match, constructing each meal with a protein, legume, and vegetable.
This is easy for me, I just needed to change my current diet to add more protein, legumes, and veggies. I have a side-by-side comparison of what I ate as a normal meal before and what I'm eating now.
3. Don't drink calories.

Drink massive quantities of water and as much unsweetened iced tea, tea, diet sodas, coffee (without white cream), or other no-calorie/low-calorie beverages as you like. Do not drink milk, normal soft drinks, or fruit juice. I'm a wine fanatic and have at least one glass of wine each evening, which I believe actually aids sports recovery and fat-loss. Recent research into resveratrol supports this.
This was easy for me, I barely ever drink soda. I use to drink 8oz of Grape Juice after every dinner… I cut it out for this experiment but I will probably re-introduce it later on to continue this experiment. There are health benefits to drinking a glass of grape juice every day, plus it's a nice after-dinner desert (to me). So basically, I just drink water, really cold water.
4. Take one day off per week.
I recommend Saturdays as your "Dieters Gone Wild" day. I am allowed to eat whatever I want on Saturdays, and I go out of my way to eat ice cream, Snickers, Take 5, and all of my other vices in excess. I make myself a little sick and don't want to look at any of it for the rest of the week. Paradoxically, dramatically spiking caloric intake in this way once per week increases fat loss by ensuring that your metabolic rate (thyroid function, etc.) doesn't downregulate from extended caloric restriction. That's right: eating pure crap can help you lose fat. Welcome to Utopia.
YAY! Binge day! One binge day I ate my normal breakfast, almost a whole bag of Circus Peanuts, a Double Bacon Cheeseburger and Strawberry Frosty from Wendy's, half a bowl of pasta fagioli soup and a pizza from Olive Garden, and three Krispy Kremes (two were kreme filled) for desert. I felt kind of sick after… I think I over did it that day. But these binge days are kind of important… as Ferriss says, it helps lose fat (and all the weight I gained that day was gone by the middle of the next week).
Routine
This is my the actual routine that I followed day-to-day…
Current Routine

Wake up & Pee (~6AM)
Weigh (on the Wii)
Measure Body Fat
Measure Body
Breakfast (~6 AM)

2 Eggs Whites & 1 Whole Egg w/ Lite Salt (Potassium) and Salt & Pepper topped with 3 forkfuls of Picante for flavor.
1/2 cup of Lentils
1 cup of frozen spinach
I take a 20 oz cup fill it full of ice cubes, then I put cold water in it, drink it all as fast as I can, then I fill it with cold water again and drink it again as fast as I can.

Shower (~7 AM) – with 100 High Knees before getting in.
Lunch (~12 PM)

1/4 – 1/5 lbs of deli cut Turkey or Chicken
1/2 cup of Lentils
1/2 bag of steamable mixed veggies (I always get the ones that have broccoli)

Snack (~3-4 PM)

Handful of Planters 100% natural harvest California Almnods roasted in sea salt, no added oils.

Dinner (~6 PM)

Whatever protein we're eating for dinner (we usually get a poutlry, pork, and beef)
1/2 cup of Lentils
1/2 bag of steamable mixed veggies (seriously, these things are awesome)
I rarely have hunger pangs on this diet. I also drink tons of ice water (the legumes make me especially thirsty). Before I officially started this diet, I experimented a little with the beans. I tried canned black and pinto beans (I couldn't find canned lentils). The canned black beans kind of made me feel nauseous (I think it was the liquid they were in). Anyway, I decided to try dry beans and boiling them myself. I'm still getting the hang of it, but black and pinto beans are too much of a hassle, lentils are much easier to cook and the book says they are the better legume anyway. So I go through about 1.5 – 2 bags of lentils each week. The only problem with lentils is one of my cats loves them, so I always have to fend her off when I'm making my breakfast (she usually get a few as a treat).
Previous Routine
Wake up (~7AM)
Head to work
Breakfast (~8 AM) – 1 cup of Kashi GoLean Crunch: Honey Almond Flax.
Lunch (~12 PM) – 1/8 – 1/9 lbs of deli cut Turkey or Chicken
Snack (~3-4 PM) – Hand of Planters 100% natural harvest California Almnods roasted in sea salt, no added oils.
Dinner (~6 PM) – Normal Dinner
Usually an unhealthy snack around 8 or 9 PM.
As you can see, my previous routine was pretty much consistent. The only difference between then and now, I eat less junk food (I am not even as tempted) and I eat a bunch more food.
Notes
With the Omron Fat Loss Monitor I have noticed that my Body Fat percentage is unpredictable the day after my binge day. It is usually not at all what I expected. This is probably due to the weight fluctuation and the contents of my body after I eat tons of crappy food.
I've tried a two recipes from the Slow-Carb Cookbook, both of the recipes in the book were flawed (the directions were not accurate). One recipe, the Turkey Casserole (which wasn't very good) had odd results. The first day after I ate the Turkey Casserole I weighed in at only -0.2 lbs. The second day after I ate the casserole, had 0 loss. This was really quite unusual for me. The other recipe, Aromatic Grilled Chicken was very tasty, but the cook-time was way off (not a huge problem). I also ended up charring the chicken, but it was still tasty.
I did go to the gym following the Occam's Protocol described in the book. I spent about two 15 minute sessions each week. I have seen a little muscle gain, but my gym time has not been a huge influence on my fat loss (as far as I can tell). I am still trying to get the hang of this routine, I will write about it once I am more comfortable with the routines.
I also did the Myotic Crunch and Cat Vomit ab exercises whenever every gym visit plus occasionally I'd do one of the exercises at home or in my office.
Conclusion
I have merely glossed over the information here. The conclusion that I have drawn from this month is that the Slow Carb diet is a great diet. I am almost never hungry and I am eating healthier (tons more veggies). I have not started experimenting with any recommended supplement, but I will first try to introduce a whey protein shake into my diet to promote muscle gain. If you are interested in the The 4-Hour Body, I definitely recommend purchasing it. It does not makes sense to buy the audio book because you really need to use it as a reference (if you plan on using it). The Kindle edition was great for me because I had it on my iPhone at the gym to reference the workout routines. This book has also led me to borrow The 4-Hour Workweek from my local library (audio book format).
If you are following anything from the 4-Hour Body, please comment below — I would love to hear about your experiences. Now, off to binge!